The Carolina Panthers are proud to offer two membership clubs for our youngest fans -
the
Little Purrs Club (fans who are younger than 3 years old)
and

the
Carolina Panthers Kids Club (fans who are 3 to 14 years old)
, each

designed
with exciting benefits to match your child's age group.

Benefits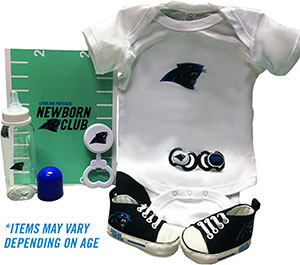 Welcome letter

Official membership kit featuring age-specific items and gifts

Commemorative fan birth certificate

Personalized birthday card on child's special day

Exciting opportunities for exclusive events

10% Discount at the Panthers Team Store

Monthly Paw Prints e-newsletter

Little Purrs Newborn Club memberships are $25 per year.
For more information, call 704-358-7479, send an email to PanthersFanClubs@panthers.nfl.com or visit the Little Purrs and Kids Club table outside of Sir Purr's Play Den between sections 136 and 138 at Panthers home games.
Please allow three weeks for membership kit delivery. Memberships are valid for 12 months and must be renewed annually in order for membership to continue. Membership benefits are subject to change each year.